Widex Hearing Aids and Accessories
Danish manufacturer founded in 1956
For over 50 years, Widex has been a trailblazer in the hearing aid industry. Their experts use science-backed research to develop new products that not only look great but also provide crystal-clear sounds. Widex hearing aids combine the latest in hearing technology and wireless connectivity for an unrivaled listening experience wherever you go.
These products are available across the globe and help countless individuals who suffer from mild to severe hearing loss. Learn more about these hearing aids and their must-have features when looking for sound enrichment devices.
Available Widex Hearing Aids
Widex EVOKE
The sounds you hear will be at your fingertips with the Widex EVOKE hearing aid. This device has smartphone connectivity, so you can adjust your settings. Over time, the model will learn your preferences and craft a better listening experience for you. Automatically adjusting your sound processes makes EVOKE one of the industry's most reliable devices.
The product is available on four different levels to accommodate anyone's hearing needs and budget.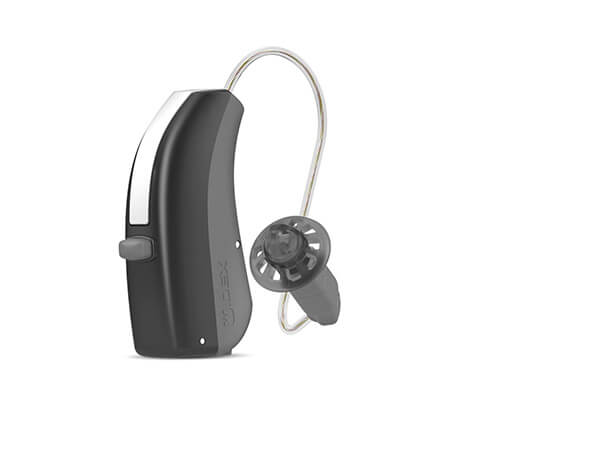 Widex UNIQUE
In your daily life, you'll encounter unique people and experiences. The sounds that occur in each environment differ, and the Widex UNIQUE hearing aid makes these noises stand out. You'll experience softer background noises while the device amplifies speech so you can engage in more conversations.
Apart from its top-notch hearing technology, the Widex UNIQUE offers users superior design choices. It's available as either a behind-the-ear (BTE) device in 14 colors or an in-the-ear (ITE) device in three colors. With this product, you can conquer hearing loss with your own style.
Widex MOMENT
Other hearing aids on the market leave you with an artificial sound. This is because the sound that a device processes tends to hit your eardrum later than it would naturally. Widex MOMENT utilizes the patented Widex PureSound feature to eliminate the delay in sound processing.
The result ensures an unparalleled experience that users prefer to other hearing aid technologies. Take this device on the go, and don't worry about being too cautious with your activities. The MOMENT model resists moisture and features a long-lasting, rechargeable battery. These Widex hearing aids come in three in-the-ear and receiver-in-canal (RIC) styles.
Widex BEYOND
Connecting a hearing aid to a smartphone has never been easier. Widex BEYOND lets you customize your sound settings in a mobile app so you can personalize your hearing levels wherever you go. iPhone and Android users can enjoy everything this hearing aid has to offer when they connect their phones for audio streaming.
Listening to music, watching videos, and taking calls are much more enjoyable when you have the Widex BEYOND to enhance the sound. You'll be able to clearly decipher speech even in windy conditions, with research reporting 30% better speech understanding with this device.
Widex Accessories
Take your hearing experience to the next level with Widex's selection of accessories. Supplement Widex hearing aids with the following technologies for one-of-a-kind audio streaming:
TV PLAY

COM-DEX & Remote Mic

UNI-DEX

CALL-DEX

TV-DEX

PHONE-DEX 2

FM+DEX

RC-DEX
Whether you want to hear clearer sounds coming from your television or phone conversations, these discreet accessories make it possible.
487 Pennsylvania Ave
Glen Ellyn, Illinois 60137
501 Thornhill Dr #100
Carol Stream, Illinois 60188
Widex Hearing Aid Accessories
COM-DEX
Get high-quality sound from any Bluetooth device to your Widex hearing aid with COM-DEX.
UNI-DEX
Listen to audio from any device with a head-set mini-jack, including mobiles. UNI-DEX.
CALL-DEX
Stream conversations straight from your mobile phone with extremely discreet CALL-DEX.
PHONE-DEX 2
Receive crystal clear sound directly to your hearing aids with cordless PHONE-DEX 2.
FM+DEX
Stream signals from telecoil, as well from FM receiver or line in with FM+DEX.