Danish manufacturer founded in 1956
Widex was founded in 1956 by the Tøpholm and Westermann families. Since March 1, 2019 Widex has been part of WS Audiology, a company formed that day through the combination of Singapore-headquartered Sivantos with Lynge/Denmark-based Widex. Widex hearing aids are sold in almost 100 countries and the company employs approximately 3,800 people around the world.
Latest Hearing Aids from Widex
Widex MOMENT
Widex's new Moment hearing aid has been revolutionary in making sound pure and natural. The recent change in the moment hearing aid include decreasing the processing time so there is less delay from the sound coming in your ear naturally vs. the hearing aid sound that is being delivered. This decreased processing time allows for a more natural and less artificial/metallic sound quality. This platform can connect with iPhone and soon to be able to connect with certain android phones with Bluetooth connectivity. The Widex moment comes in both rechargeable and non-rechargeable options and comes with a telecoil that can be activated if desired.
Widex Evoke In 2018 Widex launched its newest product, Widex Evoke, which is the first hearing aid to incorporate machine learning technology. When it's noisy, you need your hearing aid to filter out anything that can distract from hearing speech. But in quiet situations, you want to hear all the subtle details. EVOKE has a built-in Fluid Sound Controller that sets the optimal sound for different sound environments. Wearers can even teach their Evoke aids how they prefer to hear with a few taps on the EVOKE app. The SoundSense Learn feature gives users two sound profiles to choose from. Simply listen to them and select the preferred sound – as many times as you want. Because of its built-in SoundSense Adapt technology, it remembers all changes a wearer makes and intelligently applies them to similar situations – even if they're in a totally new environment.
Widex Beyond
Widex BEYOND hearing aids are made for iphone hearing aids designed to provide a seamless listening experience. Wearers can easily adjust sound settings and listening preferences, use personal pictures and even create sound templates for specific listening situations – such as being at a restaurant or with family and friends. Beyond wearers can even use the app to locate their hearing aids anytime, anywhere.  The BEYOND App also works if you have an Android phone. BEYOND hearing aids are not waterproof.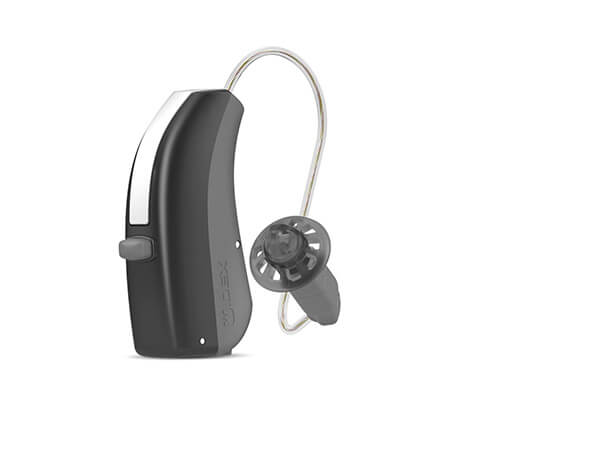 Widex Unique UNIQUE by Widex provides wearers with a wider sound picture – to allow wearers to hear both soft and loud sounds in comfort. Only UNIQUE can reduce unwanted soft sounds and maintain useful soft sounds (such as quiet speech). When outdoors, UNIQUE significantly reduces wind noise, no matter what the conditions. Unique also offers one of the best wind noise reduction systems available, so even in windy environments wearers can still hear speech. Unique is smart, as it can detect listening situations automatically and makes sure the users hears the right sound at the right time in the right place.
487 Pennsylvania Ave
Glen Ellyn, Illinois 60137
501 Thornhill Dr #100
Carol Stream, Illinois 60188
Widex Hearing Aid Accessories
COM-DEX
Get high-quality sound from any Bluetooth device to your Widex hearing aid with COM-DEX.
UNI-DEX
Listen to audio from any device with a head-set mini-jack, including mobiles. UNI-DEX.
CALL-DEX
Stream conversations straight from your mobile phone with extremely discreet CALL-DEX.
PHONE-DEX 2
Receive crystal clear sound directly to your hearing aids with cordless PHONE-DEX 2.
FM+DEX
Stream signals from telecoil, as well from FM receiver or line in with FM+DEX.