ReSound Hearing Aids and Accessories
About ReSound Hearing Aids
Danish manufacturer founded in 1943
For over 80 years, ReSound has been a trailblazer in the hearing technology industry. They remain a trusted manufacturer that countless patients worldwide turn to when they need state-of-the-art hearing aids. ReSound's wide range of hearing aids combines stylish and compact designs with a personalized touch.
Every product also features the latest technology, including smartphone connectivity. With these hearing aids and accessories, you can enjoy all-day comfort and streaming with unmatched sound capabilities.
Popular Hearing Aids From ReSound
ReSound Omnia
The best hearing aid is one that you don't even know is there. That's what ReSound's experts had in mind when they created their Omnia model. This device has a discreet design, so others will hardly notice you're wearing it. It provides crisp, clear sound enhancement.
You can easily connect your hearing aid to your Apple or Android device for direct audio streaming. With ReSound Omnia, enjoy hands-free calls and unbeatable music streaming, as well as amplified noises all around you. This product comes with a long-lasting rechargeable battery that provides up to 12 hours of non-stop streaming and a longer battery life without connecting to other devices.
ReSound One
Tackle any sound environment with the help of one of the most popular ReSound hearing aids. ReSound One lets you take charge of your hearing loss with a variety of compact styles and neutral colors. You can wear this device with confidence and enjoy its impressive battery life plus high-end features.
With ReSound One's Ultra Focus feature, you can drown out background noise whenever you need to. This advanced technology minimizes excess noise around you so you can focus on listening to the person right beside you. Having conversations in loud, crowded places won't be an issue anymore, thanks to this technology. Control your environment and enjoy on-the-go charging with this one-of-a-kind hearing aid.
ReSound LiNX Quattro
Check out the latest generation of ReSound's LiNX model that delivers unrivaled sound. LiNX Quattro includes direct audio streaming capabilities from any device, so you can hear music and programs with clarity. You can take this advanced hearing aid anywhere and charge it on the go with the included portable charging case.
The impressive lithium battery can power your device for more than a full day. When it comes time for a charge, pop the device into the charging case. You can monitor the battery either through the case's LED lights or the ReSound Smart 3D app. Should you face any trouble with your device, the app's ReSound Assist feature lets you connect with specialists who can adjust your settings in real time.
ReSound LiNX 3D
ReSound LiNX 3D hearing aids are able to do more and be more than you ever thought possible. Because it's up to 50% better at identifying speech in various environments, wearers can hear up to 80% more of the sounds around you and understand up to 40% more speech in noise, according to recent studies. LiNX users can personalize their hearing experience even further with the new ReSound Smart app. Available on the iPad®, iPhone®, iPod touch® and Apple Watch®, users have everything you need to make a quick and easy adjustment to their hearing device settings, so they can engage more easily with the world around them. With ReSound LiNX 3D, those suffering from hearing loss can better connect to the world around them with excellent sound quality and clearer speech understanding.
ReSound ReChargeable Customs
If you're having trouble finding a hearing aid that suits you, it may be time for a custom solution. ReChargeable Customs by ReSound are hearing aids personalized just for you. These devices boost natural sound and make it easy for you to overcome either mild or severe hearing loss.
ReChargeable Customs can last up to 24 hours per charge and are compatible with a range of iPhone and iPad devices, so you can make hands-free calls or video chats with unbeatable sound clarity.
ReSound Key
Enjoy natural hearing with ReSound Key, an advanced hearing aid that comes with a desktop charger, though you can upgrade to a portable charger. Like other ReSound hearing aids, the Key has mobile connectivity and ReSound Assist when you need help with your device.
Take a step back and enjoy your life with this device. You won't have to work hard to hear the world around you with ReSound's innovative hearing technology.
487 Pennsylvania Ave
Glen Ellyn, Illinois 60137
501 Thornhill Dr #100
Carol Stream, Illinois 60188
ReSound Hearing Aid Accessories
ReSound Micro Mic
ReSound Multi Mic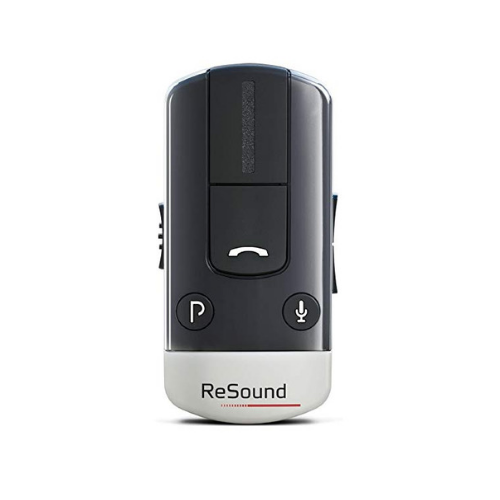 Unite Phone Clip+
Unite TV Streamer 2
Unite Remote Control 2