Danish manufacturer founded in 1943
With roots that reach all the way back to 1943, ReSound has pioneered the hearing aid industry and delivered a number of hearing industry firsts. ReSound hearing aids focus on creating versatile devices that can withstand the demands of today's active lifestyles. With a specialized coating that can keep away moisture, dirt, debris, perspiration, and other harmful substances, these units are resilient to the environmental damage of the natural world. Although their designs are sleek and innovative, they also offer manual controls that are easy to manipulate. ReSound creates an ecosystem of hearing aids, apps, and wireless accessories to let you adapt to all kinds of environments and situations and makes sure you hear the sounds you want to hear.
Latest Hearing Aids from ReSound
ReSound ONE
The Resound One is resounds newest hearing aid on the market. The philosophy behind the Resound One is their special microphone and receiver combination that allows for three microphones in the hearing aid. This philosophy allows patients to hear with more directionality and depth.
They have additionally further improved their ultra-focus directionality to help prioritize speech in difficult listening environments. This hearing aid comes in rechargeable and non-rechargeable options, comes with a telecoil option, and can connect to iPhones/certain android phones with Bluetooth connectivity.
ReSound LiNX Quattro
LiNX Quattro hearing aids automatically adjust to the wearer's environment, and users can personalize their hearing experience even further through the devices or ReSound's smartphone apps. With increased power and new processing capabilities, audio lag time has been eliminated when streaming directly into the hearing aids or through a ReSound wireless accessory. With a lithium-ion battery that is small, discreet and completely sealed for protection, ReSound LiNX Quattro is one of the most advanced rechargeable hearing aids on the market. Sporting a long-lasting battery that gives enough power to last more than a full day, LiNX users can feel confident their hearing devices will be ready when needed.
ReSound LiNX 3D
ReSound LiNX 3D hearing aids are able to do more and be more than you ever thought possible. Because it's up to 50% better at identifying speech in various environments, wearers can hear up to 80% more of the sounds around you and understand up to 40% more speech in noise, according to recent studies. LiNX users can personalize their hearing experience even further with the new ReSound Smart app. Available on the iPad®, iPhone®, iPod touch® and Apple Watch®, users have everything you need to make a quick and easy adjustment to their hearing device settings, so they can engage more easily with the world around them. With ReSound LiNX 3D, those suffering from hearing loss can better connect to the world around them with excellent sound quality and clearer speech understanding.
Other ReSound Hearing Aids: Enzo and Enya
The ReSound ENZO series provides clarity and control for severe-to-profound hearing losses with their behind-the-ear devices. Enzo hearing aids everyday hearing easier with Binaural Directionality III and Spatial Sense technology. The Enya product line is meant to deliver high-quality performance at a more economical price point. Available in a wide range of attractive designs, ReSound Enya delivers all-day listening and wearing comfort for wearers. Because each component is coated with water-repellant technology, it has long-lasting protection from water, dust and earwax. With proven 2.4 GHz wireless accessories users can stream sound to their hearing aids and still have control of their settings.
487 Pennsylvania Ave
Glen Ellyn, Illinois 60137
501 Thornhill Dr #100
Carol Stream, Illinois 60188
ReSound Hearing Aid Accessories
ReSound Micro Mic
ReSound Multi Mic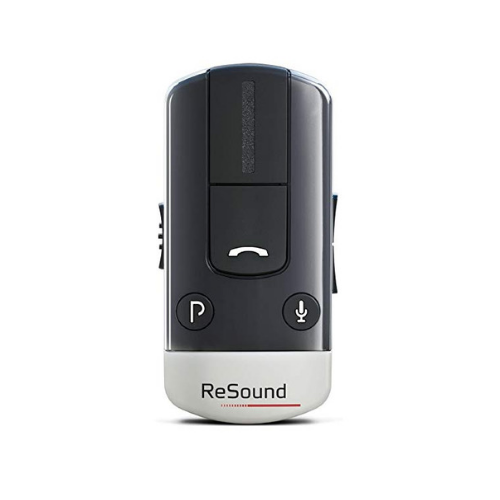 Unite Phone Clip+
Unite TV Streamer 2
Unite Remote Control 2