Experienced
professionals
you can
trust.
Serving Glen Ellyn & Carol Stream since 1982
Audiologist | Owner of Audiologic Services
John Hartman is an audiologist and owner of Audiologic Services. He received his Master of Science degree in Audiology from Illinois State University. In addition, he received his MBA from Northern Illinois University.
Prior to owning Audiologic Services, John spent 17 years in clinical and various senior sales leadership and business development roles of leading, global hearing aid manufacturers. His primary responsibilities involved were leading and mentoring sales teams to teach hearing care professionals around the country in the fitting and dispensing of digital hearing aid technology. He also lead a business development team which provided advice to hearing care professionals on how to be successful with their clinics.
In 2016, John received a Distinguished Alumni Award from his alma mater, Illinois State University for the work he has done in the Audiology field. John is excited to be back seeing patients and looks forward to meeting you in one of his clinic locations.
Doctor of Audiology | Tinnitus Specialist
Dr. Jeanne Perkins has been a practicing audiologist since 1982. She received her bachelor's degree at Catholic University of America, Washington, DC; her master's degree from Western Michigan University, Kalamazoo, Michigan; and her doctorate degree from the Arizona School of Health Sciences, a division of Kirksville College of Osteopathic Medicine, Mesa, Arizona.
She is the former director of audiology at the University of Chicago Hospitals and Chicago Dizziness and Hearing, which is affiliated with Northwestern Memorial Hospital. Her broad scope of knowledge regarding diagnostic testing and available treatment options brings university care to the local level.
Dr. Perkins specializes in vestibular testing and tinnitus treatment and management. While at Chicago Dizziness and Hearing, she developed and implemented new strategies for tinnitus masking. These findings were presented at the National American Academy of Audiology Convention in Chicago of 2011. Dr. Perkins is passionate about educating her patients and the public about hearing, tinnitus, the benefit of hearing aids, and balance issues, especially among the elderly.
She is a fellow member of the American Academy of Audiology, the American Tinnitus Association, the Tinnitus Practitioners Association, and the American Speech-Language-Hearing Association.
Melissa Siavelis, M.S., CCC-A
Clinical Audiologist | Cochlear Implant Specialist
Melissa Siavelis, M.S., has been a practicing audiologist since 1995. She earned her bachelor's degree at Michigan State University with honors and her Master of Science degree from Purdue University with high honors.
Her clinical background includes rehabilitation for hearing loss, single-sided deafness, tinnitus and cochlear implant evaluation, and mapping. She has spoken at the American Academy of Audiology and has authored a series of reference guides covering a range of hearing instruments.
As demonstrated over the course of her career, Melissa is passionate about helping her patients and their families proactively address hearing-related issues. Melissa enjoys doing yoga, pilates, reading for pleasure, walking her dog, and spending time with her husband and two children.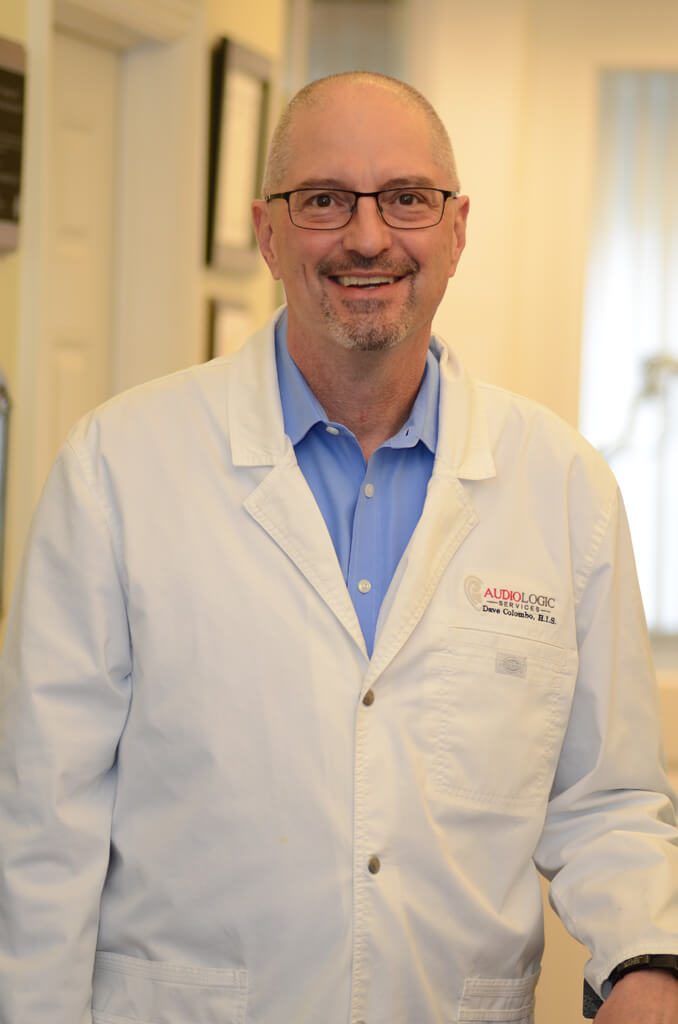 David Colombo, B.A., H.I.S.
Clinic Director in Glen Ellyn | Hearing Instrument Specialist
David Colombo, B.A., H.I.S. is the Clinic Director of Audiologic Services in Glen Ellyn, Illinois. He received his bachelor's degree from Eastern Illinois University. Dave resides in Northern Illinois where he lives with his wife, two cats, and a dog. Dave and his wife are parents to 5 boys ranging in age from 13 to 22 and enjoy live music, hiking, travel, and dining.
Before joining Audiologic Services, Mr. Colombo spent the last two decades as a Territory Manager for multiple global hearing aid manufacturers. His primary responsibility involved training other Hearing Instrument Specialists and Audiologists around the Midwest in the fitting and dispensing of digital hearing aid technology. He is considered a technology expert and stays abreast with the latest developments in the hearing industry so that he can help his patients on their journey to better hearing. Dave elaborates "When people ask me what I do, I respond that I reconnect people with their friends and families. Hearing instruments are only part of the solution. I truly believe that the most important part of a hearing aid is the person you get it from."
Mr. Colombo is a published author and has lectured at Universities across the Midwest on hearing aids, assistive devices, and tinnitus management. Dave is a licensed Hearing Instrument Specialist with the State of Illinois and has served on the Board of Directors of the Illinois Hearing Society.
Sue Vorderer
Hearing Instrument Specialist
Taylor St. Peter
Audiology Extern/Doctoral Candidate
(May 2021)
Linda Burba Au.D.
Advisory Board
Kim Woods
Patient Care Coordinator
Kathy Dorjath
Patient Care Coordinator
What our patients are saying