Experienced
professionals
you can
trust.
Serving Glen Ellyn & Carol Stream since 1982
Audiologist | Owner of Audiologic Services
John Hartman is an audiologist and owner of Audiologic Services. He received his Master of Science degree in Audiology from Illinois State University. In addition, he received his MBA from Northern Illinois University.
Prior to owning Audiologic Services, John spent 17 years in clinical and various senior sales leadership and business development roles of leading, global hearing aid manufacturers. His primary responsibilities involved were leading and mentoring sales teams to teach hearing care professionals around the country in the fitting and dispensing of digital hearing aid technology. He also lead a business development team which provided advice to hearing care professionals on how to be successful with their clinics.
In 2016, John received a Distinguished Alumni Award from his alma mater, Illinois State University for the work he has done in the Audiology field. John is excited to be back seeing patients and looks forward to meeting you in one of his clinic locations.
Doctor of Audiology | Tinnitus Specialist
Dr. Jeanne Perkins has been a practicing audiologist since 1982. She received her bachelor's degree at Catholic University of America, Washington, DC; her master's degree from Western Michigan University, Kalamazoo, Michigan; and her doctorate degree from the Arizona School of Health Sciences, a division of Kirksville College of Osteopathic Medicine, Mesa, Arizona.
She is the former director of audiology at the University of Chicago Hospitals and Chicago Dizziness and Hearing, which is affiliated with Northwestern Memorial Hospital. Her broad scope of knowledge regarding diagnostic testing and available treatment options brings university care to the local level.
Dr. Perkins specializes in vestibular testing and tinnitus treatment and management. While at Chicago Dizziness and Hearing, she developed and implemented new strategies for tinnitus masking. These findings were presented at the National American Academy of Audiology Convention in Chicago of 2011. Dr. Perkins is passionate about educating her patients and the public about hearing, tinnitus, the benefit of hearing aids, and balance issues, especially among the elderly.
She is a fellow member of the American Academy of Audiology, the American Tinnitus Association, the Tinnitus Practitioners Association, and the American Speech-Language-Hearing Association.
Melissa Siavelis, M.S., CCC-A
Clinical Audiologist | Cochlear Implant Specialist
Melissa Siavelis, M.S., has been a practicing audiologist since 1995. She earned her bachelor's degree at Michigan State University with honors and her Master of Science degree from Purdue University with high honors.
Her clinical background includes rehabilitation for hearing loss, single-sided deafness, tinnitus and cochlear implant evaluation, and mapping. She has spoken at the American Academy of Audiology and has authored a series of reference guides covering a range of hearing instruments.
As demonstrated over the course of her career, Melissa is passionate about helping her patients and their families proactively address hearing-related issues. Melissa enjoys doing yoga, pilates, reading for pleasure, walking her dog, and spending time with her husband and two children.

Taylor Bender received her Doctorate of Audiology from Northern Illinois University in May 2021 and earned her bachelor's degree in communication science and disorders at University of Nebraska-Lincoln.
Her professional interests include educating patients on hearing loss and amplification needs, tinnitus management, and cochlear implants. She has completed 6 different clinical rotations through her doctoral program in settings such as an ENT, private practices, and National Institute on Aging with school aged children.
Taylor's passion for audiology began when she witnessed two of her own family members struggle with the effects of untreated hearing loss. When they decided to treat their hearing loss their quality of life increased and were able to participate in family conversations again. This is when Taylor knew she wanted to provide the same experience for other individuals and their families.
Taylor grew up in Naperville, IL and currently resides in the northwest suburbs. In Taylor's spare time she enjoys reading novels, being active playing sports, as well as spending quality time with her friends, family, and husband.
Taylor is a member of the American Academy of Audiology and is a Licensed Audiologist in the state of Illinois. Taylor is also proud to be a HearingUp approved provider.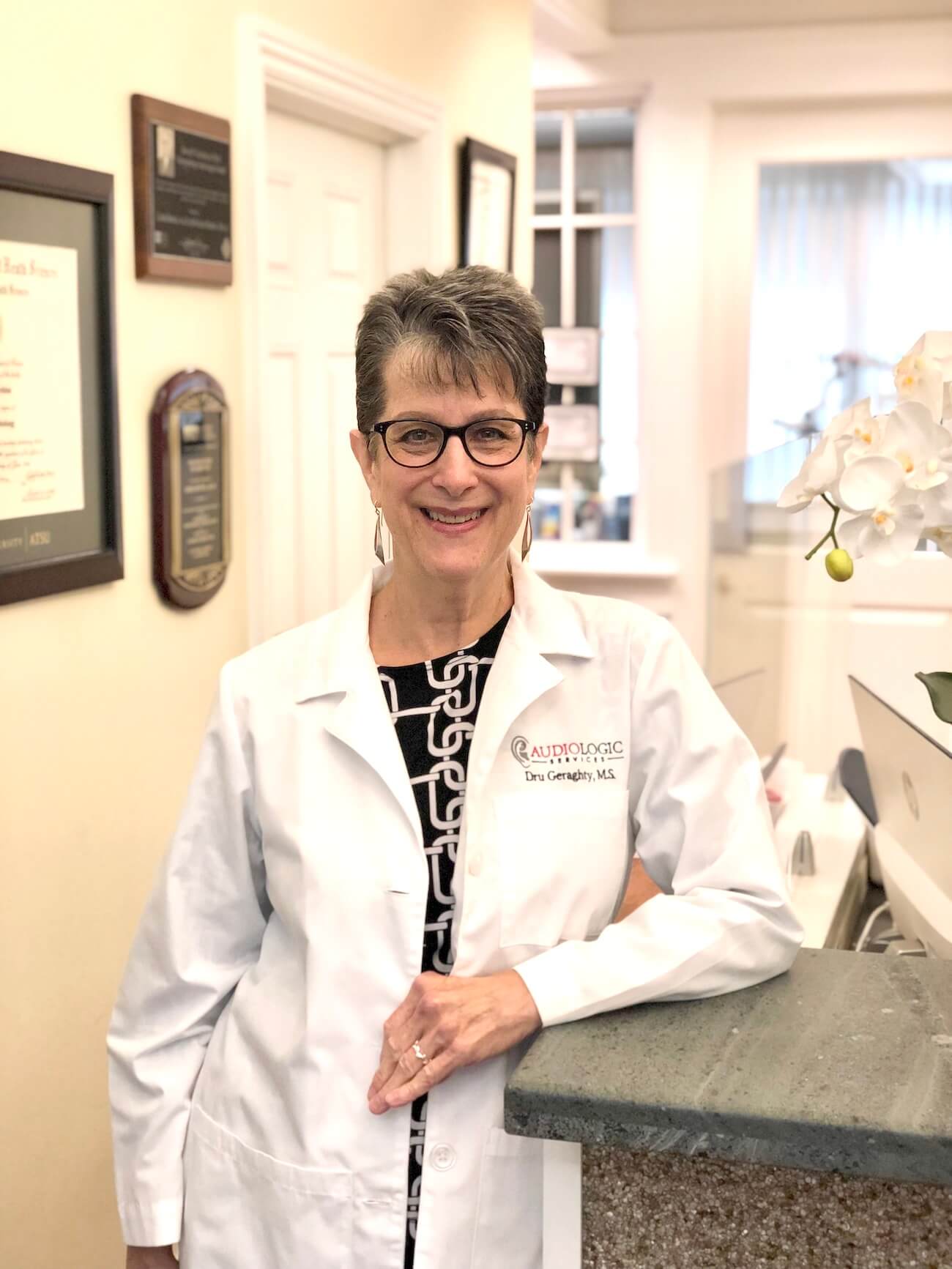 Clinical Audiologist | Hearing & Vestibular Treatment Specialist

Dru Geraghty has been a practicing audiologist since 1981. She received her bachelor's degree in Music Education from Millikin University in Decatur, IL, in 1978, and her Master of Science in Audiology from Illinois State University in 1981. She has extensive clinical experience in hearing and vestibular assessment and treatment.
Dru believes in collaborating with patients to development and implement hearing aid and tinnitus solutions that best meet their individual needs. She is a lifelong learner who uses current professional knowledge to provide an exceptional patient experience. Dru believes that developing long lasting, trusting relationships with patients is key to their success with hearing aids.
In her free time, Dru enjoys hiking, cycling, exercise classes, reading, participating in voice and handbell choirs, volunteering at the Northern Illinois Food Bank and Glen Ellyn Food Pantry. She also enjoys spending time with family, friends and her pets.
Professional Affiliations
Certified member of the American Speech-Language-Hearing Association
Member of the Illinois Academy of Audiology
Proud to be a HearingUp Approved Provider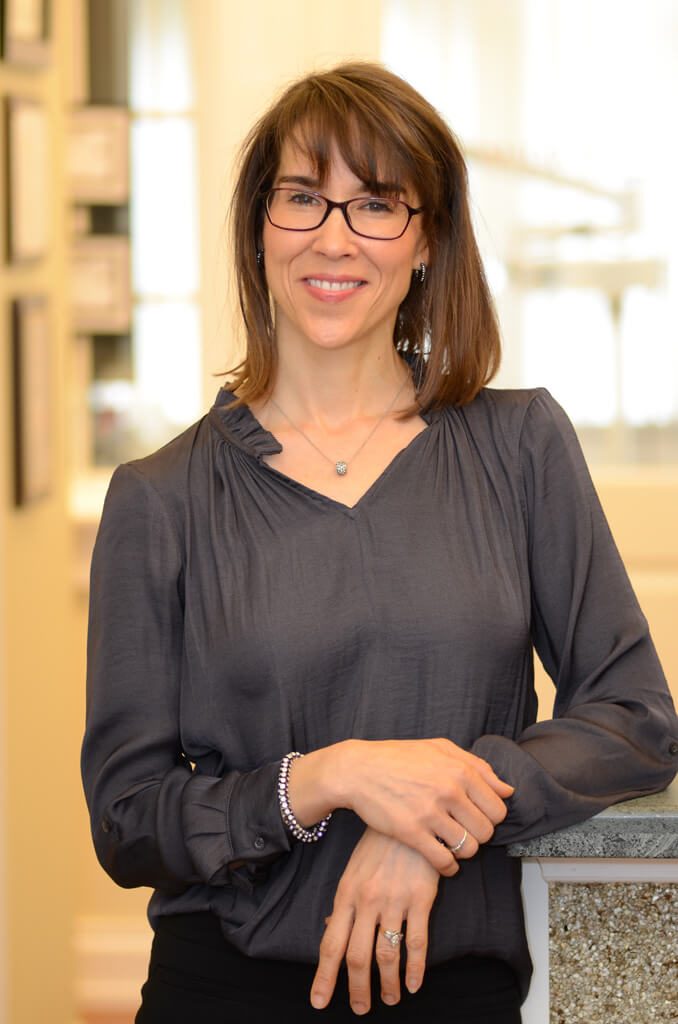 Hearing Instrument Specialist
Sue Vorderer graduated from Miami University Oxford, Ohio in 3.5 years with high honors while working through school. She earned her Bachelor of Science degree in Health Sciences with a minor in Gerontology.

Sue is a former pharmaceutical representative which gave her firsthand experience with patients beginning in 1999. While in the field, Sue participated in research studies in the cardiovascular field and was trained in patient care. Her experience in the health care field solidified her passion of helping others maximize their quality of life to the best of patients' individual abilities.

Following a most rewarding and joyful time at home while her 3 children were young, Sue returned to school where she completed her Hearing Instrument Specialist program with honors and passed her state board exams. She now is a licensed Hearing Instrument Specialist who apprenticed under the excellent team at Audiologic Services.
Sue's passion for helping others carries over into her personal life as she and her dog, Ginger, have been a volunteer pet therapy team for 2 different organizations since 2016. Sue and Ginger actively visit assisted living facilities, classroom settings often with multineeds students, as well as hospice care. Bringing joy and comfort to others is incredibly rewarding and Sue hopes to continue this service for years to come. In her spare time Sue enjoys spending time with her husband and children as they have together traveled the 48 continental states. Sue also enjoys exercising, reading, gardening, and cooking.
Hearing Instrument Specialist
TJ was born and raised in New Lenox, IL and graduated from Northern Illinois University in 2006. TJ has 18 years of experience in the hearing industry seeing patients in clinic and working for major hearing aid manufacturers.
He has had hearing loss since he was a child and has been a long-time hearing aid wearer. Hearing care is his passion because he knows first-hand what it is like to live with hearing loss and how the right hearing aids can have such a positive impact on someone's life.
He was recently married to his wife LeAnn and they have a 16 year old son. They love pets and have 3 cats and 2 dogs. TJ's hobbies include talking about his wife, his son, and his pets. Ask him to see pictures!
Kathy Dorjath
Patient Care Coordinator
Maxine Reynolds
Patient Care Coordinator
What our patients are saying